A group of students from Austria were very interested in what First Coast News chief meteorologist Tim Deegan had to say about the weather this week.
The students, part of a trip sponsored by the non-profit EF Educational Homestay program, were in town visiting sites, including First Coast News, The University Club, The Baseball Grounds of Jacksonville and The Jacksonville Landing.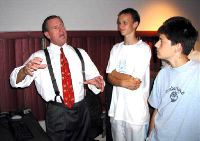 Tim Deegan, meteorologist with First Coast News, talks to a group of students July 20 from Austria including Lucas Perterer, 17 (center), and Max Mittendorfer, 15. The group was touring Jacksonville sites.
--Patti Levine-Brown/staff


"The Beaches are great, so I am very interested in the weather conditions," said Albert Stockhammer, who has made two previous trips to the United States through the program. "I think we all love the beach because you probably know that we don't have anything like that in Austria. We only have mountains."
Stockhammer attends college in his homeland, and is one of 19 students on this trip who are staying with families in St. Augustine. The young Austrian, who celebrated his 21st birthday this week, said his trips to the U.S. have been educational and enjoyable.
"St. Augustine is very different from all the other cities I have seen before," said Stockhammer. "There are no skyscrapers and the atmosphere is not like other American cities."
The first trip to America for 15-year-old George Effenbergerger was simply summed up as "great!"
"The American way of life is great," Effenbergerger said. "I love it."
Program facilitators say the trips to the United States are opportunities for the students to improve their English and learn about American culture and family life. The students stay with volunteer families for two to four weeks at a time, who provide them with meals, transportation and a place to stay. These host families, said Bev Simpson, program coordinator with EF, are a key part of the program's success.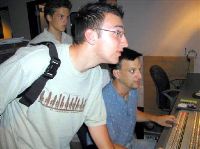 George Effenbergerger, 15, a student from Austria, is interested in what First Coast News director Mike Adams has to say about his control panel.
--Patti Levine-Brown/staff


"The host families who open their hearts and homes to these students are awesome," she said. "Not only do they volunteer their time, they take no money for what they do."
Trey Cino, 14, a member of a host family from St. Augustine, said he really likes spending time with the students.
"We have a lot of fun together," Cino said. "We are all in the same age group, and we have more in common than most people think."
Tour escort Christian Koessldorfer, a teacher in his homeland of Austria, said the thing that seems to impress students most is the vastness of everything in the United States.
"Everything here is on a bigger scale," Koessldorfer said. "We are used to smaller communities, and the sheer size of everything here is impressive."
Koessldorfer, who has served as an escort for several trips to America, including New York and San Francisco, said he has always been impressed with the friendliness of the American people.
"I am overwhelmed by the hospitality ... and I do not know how we could ever pay them back for their kindness," he said. "People here have opened up their homes to us and expect no payment. People back home don't do things like this without wanting to know what they are going to get in return."
Lucas Perterer, 17, nodded his head in agreement as he listened to Koessldorfer's comments.
"This has been such a positive experience for me," Perterer said. "In Europe, people tend to be more closed. They are not as friendly as they are here."
Mandarin resident Maryann True, area manager for the Florida EF Educational Homestay Program, said the nonprofit organization brings young people to the United States to learn about the culture and lifestyle, and that much of the time the students must readjust their thinking about American society.
"One of the great things about this program is that it allows these students to get to know people as individuals," True said. "Many of these kids only understand our lifestyle from what they see on television and in the movies, and when they find out that America is not like what they have seen in the movies, it really is an adjustment for them."
True added that the adjustments seem easy for the young people to make because they are so excited about being in America.
"One thing I have learned is that teenagers are teenagers, no matter what country they come from," True said. "They are excited about the opportunity to share their culture with us and learn about our culture."
The students' will be in the U.S. for one more week. Their remaining activities include an overnight excursion to Orlando.